Campus

Founders
Identifying and nurturing India's budding talents
Picture this – You've got this incredible idea buzzing in your head ready to take the entrepreneurial world by storm. How can you get make this happen? Transforming that brilliant idea into a successful business is no walk in the park. And that is exactly where NSRCEL can help you
Now that we have caught your attention
NSRCEL Campus Founders is an exciting 4 month program specially crafted for recent grads and students entrepreneurs like you!
Get ready for an incredible
4-month journey!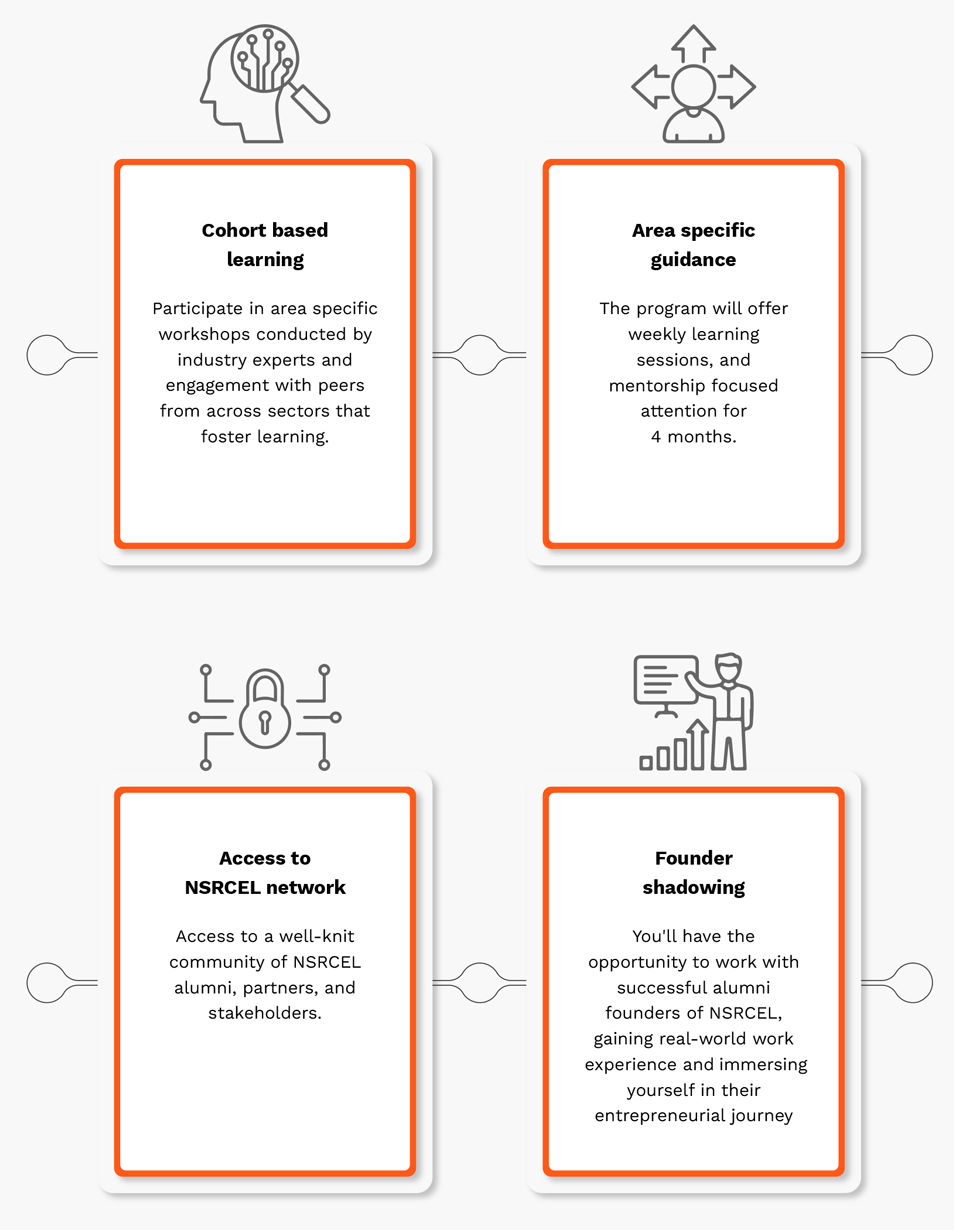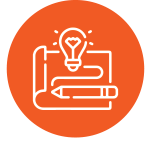 The startup should have a working prototype.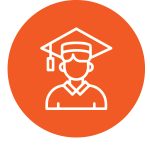 The program is open to students from any academic discipline.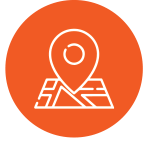 For the first cohort of this program, we are only looking for founders based out of Bengaluru.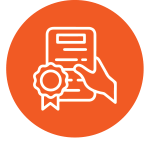 If you have graduated, you must have graduated less than a year ago.
How can you be part of Campus Founders?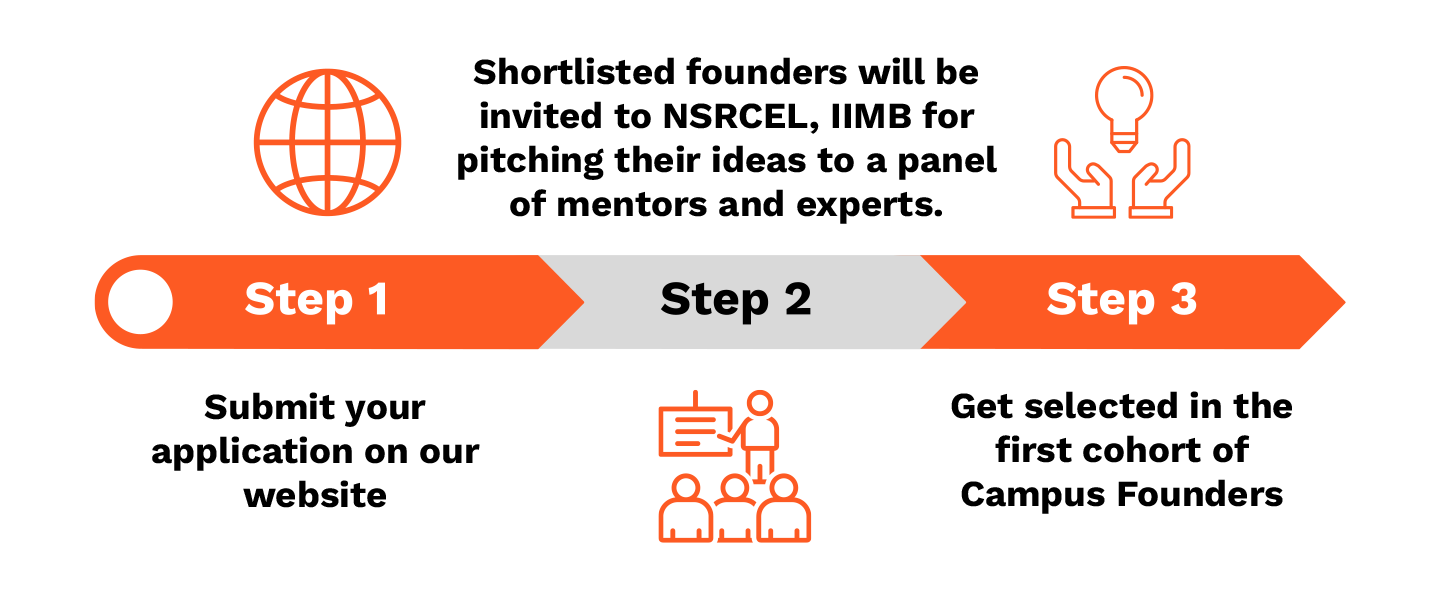 Please note: Selected participants will enter 4-month Campus Founders Incubation program
Sign up here to get started!

Learn the essentials of entrepreneurship

Test and refine your business model

Create a validated revenue model

Develop a growth driven product roadmap

Craft plans to achieve product-market fit

Gain the ability to secure startup funding

Discover and secure a loyal customer base
How Campus Founder
can help you?
As students, we are certain that you're brimming with enthusiasm and big dreams. However, you may want to build knowledge about the real-life obstacles you may face. That's why you can benefit from a program that helps you understand the challenges ahead and equips you with the tools to overcome them.
Sure, you've got creativity and ideation skills in your backpacks, but what about the nitty-gritty of running a business? You need to learn the fundamentals of business concepts and strategies that will empower you to manage and grow your startups successfully.
Building a startup entails more than just having a great idea. It calls for an entrepreneurial mindset, resilience, and a strong support system. These qualities are necessary for you to thrive as a founder, however, these become secondary if the focus is solely on innovation.
Who is eligible to apply for the program?
If you are a college-based startup founder or a recent graduate who is receptive to learning and demonstrates a sense of responsibility for maintaining their entrepreneurial path, this program is the right fit for you
I have recently graduated. Can I still apply for the program?
If you have graduated less than a year ago, you can still apply for the program
When can I apply?
The registration is open. You can apply now.
What can I expect in the incubation program?
Program specifically designed for students

Cohort based learning

Area specific guidance

Mentorship 

Access to NSRCEL network
Why is this program different from other Incubation programs?
This program is specifically designed for student entrepreneurs, keeping in mind the needs, requirements, and schedule of the students. 
What does NSRCEL expect from you?
We expect you to be an active participant in all the efforts we put into nurture your venture.
What is the duration of the program?
The cohort lasts for 4 months but it does not end there, the entrepreneur then becomes the part of the NSRCEL ecosystem.
Does the program focus on specific sectors or geographies?
The program is sector agnostic. For the first cohort, we are only considering applications from the Bengaluru-based entrepreneurs.
Where will the program take place?
The program takes place in a hybrid format with physical events/meetups often taking place in Bangalore or other cities.
Will I receive any financial support from NSRCEL?
The program does not ensure funding for your enterprise, nor does it provide any stipends to any of the students.