Identifying and nurturing India's budding talents
Identifying and nurturing India's budding talents
NSRCEL has been promoting entrepreneurship from STEM institutes through its India Innovation Challenge Design Contest (IICDC) program since 2016. The program identifies pathbreaking innovation in engineering colleges, that are being conceptualised by students with a tenacity for entrepreneurship. The program handholds these founding teams from the final year of college through to at least 12-18 months of the venture's journey after graduation. 
The objective is to create a platform for entrepreneurship as a sustainable career path for innovators in STEM institutes. 
The India Innovation Challenge Design Contest (IICDC) has grown from strength to strength every year since its inception in 2016. An initiative by Texas Instruments India in collaboration with Department of Science and Technology (DST), the program is anchored by NSRCEL. It also has support from MyGov and NIC. IICDC has come to be an established platform in creating an immersive ecosystem that serves as a platform in recognizing India's engineering student talent in innovation and sharpening their business acumen transforming their dreams into startups. 
For the ongoing 2019 edition, All India Council for Technical Education (AICTE) has come onboard as a partner to promote a scientific mind-set and align with IICDC's mission to strengthen technical innovation in India. 
Engineering students nationwide participate in the design contest and compete at different levels and the 20-25 final winners are offered incubation with seed funding at NSRCEL, IIMB.  
The four editions of IICDC saw participants file over 175 patents, with two patents already granted. 
Program structure and interventions
Student-entrepreneurs come with a fair degree of engineering expertise, but limited business acumen or entrepreneurial mindsets. The IICDC program is designed to transform these founding teams from "owners of ideas" to "owners of ventures"
To help these ventures established themselves as sustainable ventures, the program includes:
Instructor-led capability building for the founding team in areas of building and scaling their ventures
Mentorship across strategic, and product-market centric decisions, from a panel of NSRCEL mentors, entrepreneurs, and industry experts
Ecosystem partnerships across legal and financial aspects of incorporation, product design, hiring and capability building, engineering, and sales & marketing
Access to NSRCEL's network of funding partners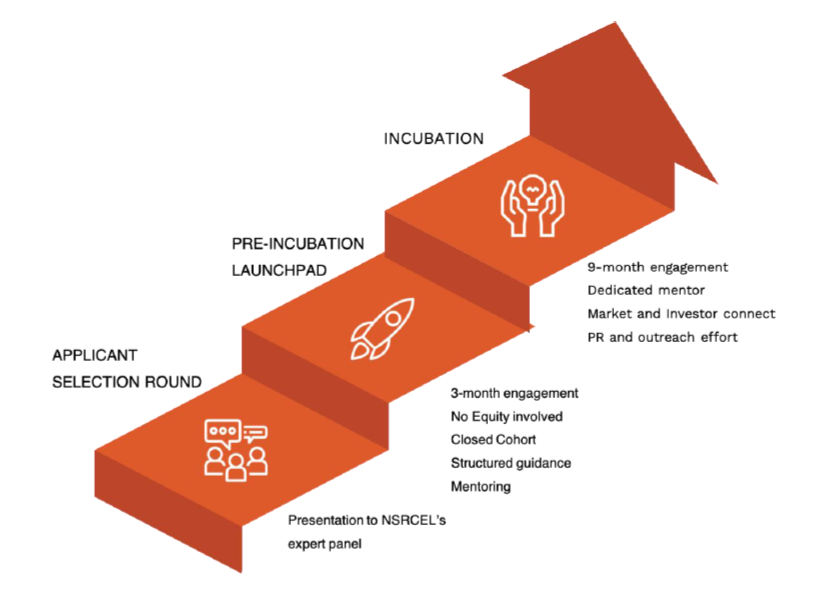 Assistance through prototype grants, stipend for founding teams, seed grants and marketing support are key dimensions of the IICDC program 

Prototype
Entrepreneurs receive the prototype building fund of Rs. 5 lakhs for each team which is in-progress.

Seed Fund
Entrepreneurs receive a seed amount of Rs. 15 Lakhs (in 2 tranches) during incubation period: 
Grant of Rs. 5 Lakhs after the first quarter review

 

OCL of Rs. 10 Lakhs with 5% equity after the second quarter review. 

 

Stipend
Entrepreneurs receive a stipend of Rs 25,000/- per month for 12 months during the incubation period based on the performance and the grades assigned by their respective anchor mentors. 
We are in the midst of re-designing and re-launching NSRCEL's student entrepreneurship program for 2022 and beyond. While Texas Instruments has chosen to exit the program, we are bringing in a consortium of partners across government institutions, corporates, academic institutions, and other incubators to build a sustaining path for student-led entrepreneurship across the country. 
The pillars of this program will be deeper engagement with the parent academic institute and student entrepreneurship cells for access to lab & prototyping facilities and other incubation support infrastructure; and with premier academic institutes like IITS and IISC for technical mentorship. 
We plan to kick the new avatar of NSRCEL student entrepreneurship by summer of 2022, in parallel to the ongoing IICDC 2019 cohort.